MAFETENG - The United Nations Population Fund Representative to Lesotho Mrs Therese Zeba Kobeane says involvement of the business community in all dimensions of the national responses is essential for significantly reducing maternal deaths and HIV infections by increasing population knowledge mainly among young people and increase access to testing and treatment and to support services.
Delivering a keynote address at a joint UNFPA and Lesotho Chamber of Commerce and Industry (LCCI) stakeholder's forum on HIV and Maternal Health held in Mafeteng on Thursday (21/04/2016), the Representative reiterated UNFPA's commitment to the partnership with the business community in addressing HIV and maternal health issues.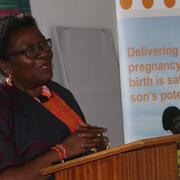 She congratulated LCCI for organizing the forum, which had brought together the business community in Mafeteng  to reflect on actions to contribute to the national response  to HIV and to the country initiative to accelerate maternal and neonatal deaths in Lesotho.
The UNFPA Representative indicated that Lesotho had just launched the Test and Treat strategy demonstrating the country's strategic advancement in the implementation of the Fast Track approach in the AIDS response. "We cannot end the AIDS epidemic if women, youth which are key populations and adolescents are still left behind," she added.
She stated that maternal mortality is another challenge hindering the country development efforts by its impact on the active young women and adolescents.
Speaking at the occasion, the President of LCCI Mr Ntaote Seboka explained that the partnership between UNFPA and LCCI will take two years. He called upon the business community to take responsibility and participate in efforts meant to safeguard the lives and good health of people in Lesotho. "We should be concerned about issues of maternal health and HIV and how they affect our economy. I hope that after this workshop we will be able to bring change to our people in reduction of the prevalence of HIV and maternal deaths," he added. LCCI and UNFPA Business Community partnership in the Prevention of HIV and maternal deaths in Lesotho has already held two successful meetings in Mokhotlong and Botha Bothe earlier this year. LCCI and UNFPA have agreed to join hands to support knowledge and information for business organizations, their employees and workers on Family Planning, Sexual and Reproductive Health and Rights and HIV issues as well as to improve access, resource allocation and availability of SRH/HIV services for the business community. This advocacy and outreach campaign is expected to reach all the districts and regions of Lesotho.