Members of the newly formed Women's Parliamentary Caucus in Lesotho have reaffirmed their commitment to rise above their political differences and speak in one voice on Gender, Sexual and Reproductive Health Rights, HIV and AIDS and Governance issues to make their voices heard.
In a communique issued after an orientation session and launch of the Women's Caucus from 21-23 May, 2018, the women further reaffirmed their commitment to address in particular Sexual and Reproductive Health Rights (SRHR) and all fundamental Human Rights of Basotho people through their mandated roles of representation, law making, oversight and budget allocation.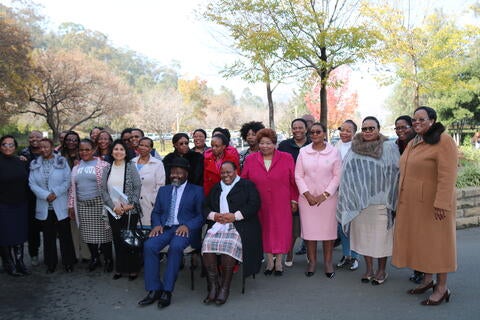 They noted with concern increasing maternal deaths, unsafe abortions due to early and unintended pregnancies and the high prevalence HIV & AIDS and Tuberculosis in the country, and thus urged the Government of Lesotho to ensure that no woman should die while giving birth.
"We are further disturbed by the lack of access to SRHR and HIV services by key populations and the increasing human rights violations against these groups and recognize that child marriages are highly prevalent in Lesotho and that most of them are condoned by contradictions in marriage laws and all other laws on age of consent, parental consent and also that these violations go unpunished," stated the communique.
The Lesotho National Women's Parliamentary Caucus further condemned child marriages and any form of violation of children's rights and thus committed to review of existing laws related to the protection of women and girls with the aim of amending them to ensure they are water tight with harsh penalties for sexual offences, gender based violence and child marriages.
The caucus further committed to holding the Government accountable for the implementation of domestic, regional and international commitments on gender, SRHR, and HIV and AIDS issues.
Speaking during the orientation, UNFPA, the United Nations Population Fund Representative to Lesotho Ms Nuzhat Ehsan called for progress to be made in promulgation of laws against Domestic Violence and Child Marriage.
She expressed concern on the high rates of maternal mortality (1024/100 000 live births), gender based violence and child marriage in the country.  "In Lesotho, eighty-six percent (86%) of women are estimated to have experienced some form of Gender Based Violence at least once in their lifetime, sometimes perpetrated by their partners. This is unacceptable," she emphasized.
She also appealed to the women parliamentarians to take keen interest in issues pertaining to sexual and reproductive health and rights and prevention of HIV and gender based violence so that they can be treated with urgency.
On the other hand, the Deputy Speaker of the National Assembly Hon. Teboho Lehloenya called upon the women parliamentarians to be real agents of change and redefine political priorities. "Speak in one voice to make necessary impact in gender mainstreaming and other issues," he said, adding, "It is through the caucus that you will maintain gender mainstreaming. Remember, women outside parliament are looking up to you to address the challenges that they face in their daily lives."
Furthermore, the Chairperson of SADC Parliamentary Forum Women Caucus Dr. Jessie Kabwila who briefed the MPs on the SADC PF Perspective of Women's Parliamentary Multiparty Caucuses and SRHR Project urged them to participate in politics to save lives. "As politicians, ours is a life job as the people we represent are the poorest, who face heath issues every day. Our business should be about how HIV medication and SRHR services can be increased."
The women's caucus, made up of women from both the National Assembly and the Senate, is    the first for Lesotho in six years. The orientation and launch was supported by UNFPA and the Southern African Development Community (SADC) Parliamentary Forum. The caucus developed an action plan focusing on, among others, capacity building, advocacy for laws improvement as well as leadership and oversight.
A Chairperson, Vice Chairperson and Secretary were also elected.