When Thembekile* who is 14 years old started menstruating, her aunt taught her how to use an old cloth during her periods. She also taught her about the right undergarment to use to avoid embarrassing leakages.
Thembekile and other girls her age in Quthing district have to rely on old cloths for use during their monthly periods. Their families are too poor to afford sanitary pads.
Their plight has been made worse by the COVID-19 pandemic as most of their parents, who are usually employed in South African vegetable and fruit farms at Ceres in the Western Cape, are either back in Lesotho and not earning any income or remain in South Africa without jobs.
During the start of the lockdown due to COVID-19 in March 2020, a lot of men and women from Quthing district came back to Lesotho. Almost six months after, they are still in Lesotho, without any form of income.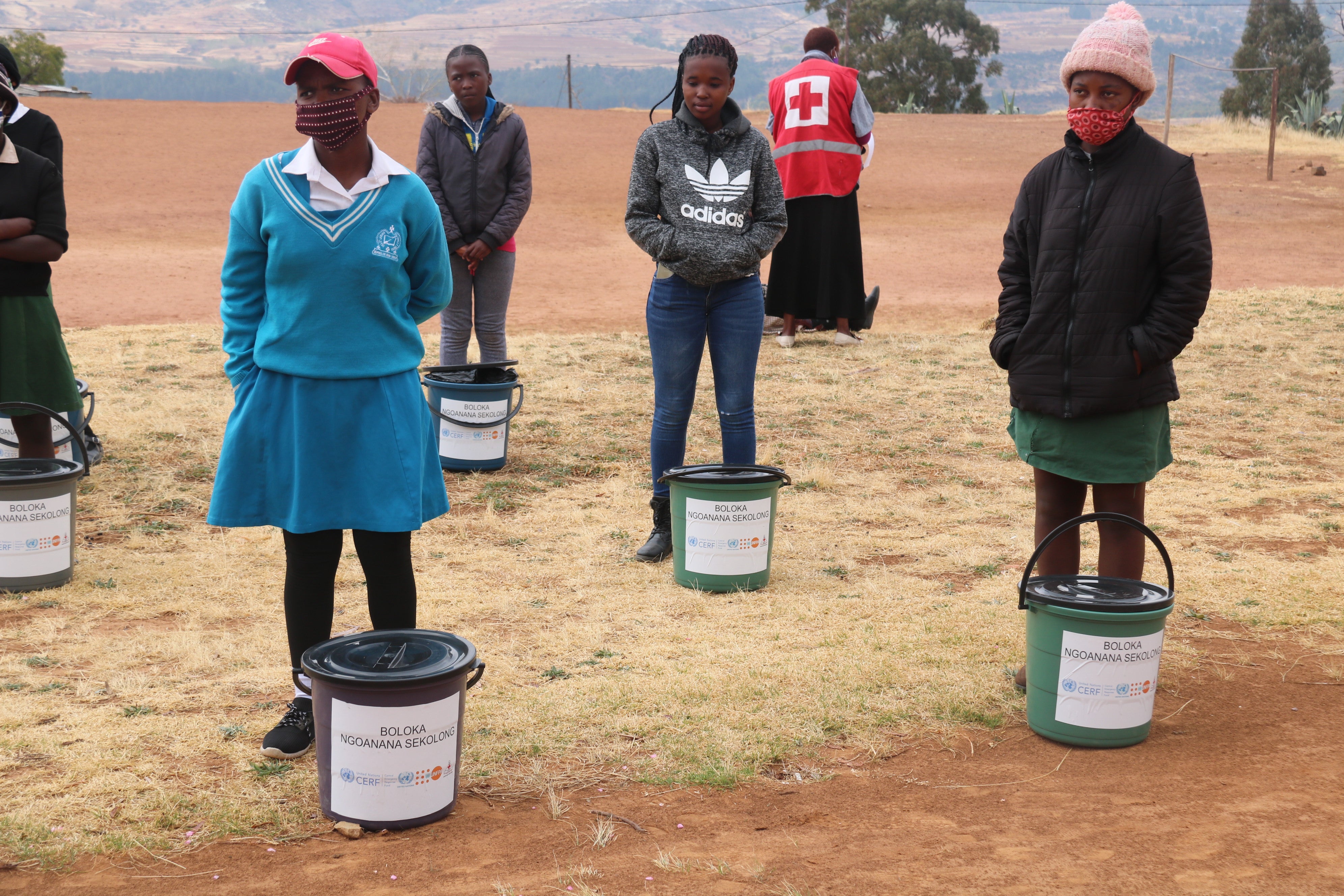 UNFPA, the United Nations Population Fund has partnered with Lesotho Red Cross Society (LRCS) to support girls like Thembekile. Through funds from the Central Emergency Relief Fund (CERF), UNFPA engaged LRCS as an implementing partner to distribute dignity kits to vulnerable girls and women affected by drought and COVID-19.
Thembekile's aunt who received the dignity kit on her behalf at Qomoqomong, was very happy after receiving the package.
"We have nothing. Nothing. When we wake up we don't know where to go and what to do. My greatest challenge is that I don't only look after Thembekile whose parents have been working at Ceres in Apple and Onion farms but I have my own children who have not done well in matric examinations and are idling at home." She adds, "Now COVID-19 has made things worse."
She wishes there could be dams around the village to harness water and lesson the effects of droughts.
Besides the dignity kit. She was also grateful for the advice offered by an official from the Child and Gender Protection Unit (CGPU) during the handing over of the dignity kits.
"It is difficult for some of us to talk to our children about issues relating to sex, child marriage and other children's rights. So we are happy that the girls were advised on these issues today"
Woman Police Constable Lirontso Shale highlighted the girls, and women present at the occasion on their human rights, Gender Based Violence (GBV), especially during the lockdown, the different types of GBV and how they can be affected as young girls.
She encouraged the girls to report gender based violence and explained that early sexual debut leads to unwanted pregnancies, transmissible diseases and illegal abortions, adding, "anyone below the age of 16 is not supposed to engage in sex. It is an offence to do so."
She also warned them against child marriage and its repercussions. "No matter the kind of problems you have, marriage is not a solution. The solution is getting an education," she said.
According to the Principal at Qomoqomong Primary School, some young girls often miss school when they are having their monthly periods to avoid embarrassment.  She was also happy the dignity kit contained, among others, two undergarments.
"Due to embarrassment, sometimes the girls are unable to participate in sports activities or they end up borrowing each other underwear. This we ultimately know because when there is a conflict, these things come out and end up being known by many at the school, causing more embarrassment."
A Red Cross Volunteer Ms 'Marelebohile Ntsukunyane who has been distributing the dignity kits in Quthing says many young girls in the district live on their own as parents are at Ceres, South Africa. "There is therefore a lot of sexual assaults directed at these girls."
Most of all, she says, they have discovered many of them are destitute. "When we were at Sixondo, we had to share the contents of the dignity kits. We could not just leave some of the girls that were there without giving them anything, considering how needy they looked."
The dignity kits are distributed in five districts; Quthing, Mokhotlong, Maseru, Mafeteng and Mohale's Hoek which all distribute to 500 adolescent young girls and young women.
The programme was launched at the Royal Palace in Maseru, where 10 girls who were selected as representatives of a bigger group of 2500 received the dignity kits, handed over by UNFPA Representative to Lesotho Dr Marc Derveeuw to Her Royal Highness Princess Senate Mohato Seeiso who officially received them on behalf of the girls.
Speaking at the occasion, Dr Derveeuw reaffirmed that UNFPA would continue focusing on the situation of women and girls in the Kingdom of Lesotho.
He emphasized the need for menstrual health to be in the development agenda, adding that the dignity kits contained items for women and girls to preserve their dignity, especially in times of crisis like the COVOD-19 when these items do not get priority at household level.
On the other hand, Her Royal Highness Princess Senate Mohato Seeiso called for all concerned to continue fighting for women and girls against gender based violence.
"On behalf of my peers, young women and girls that bear the brunt of victimization for gender based violence, we wish to sincerely implore all concerned to continue fighting for us. We need and deserve a safe country in which we can live in peace," she added.
UNFPA received COVID 19 funds in January 2020 to respond to social protection issues arising in communities that have been hard hit by the El Nino induced drought that was declared by the Government in November 2019. Through this project UNFPA is working with World Vision on prevention of child marriage and provision of Psycho-social support to drought affected communities and also with Gender Links on Protection and Gender Based Violence mainstreaming as well as engagement of men and boys in the fight against GBV in Emergencies. With Lesotho Red Cross Society, focus is on continuity of Essential Sexual and Reproductive Health and Rights during emergencies. 
For UNFPA, the distribution of dignity kits help women and girls maintain their dignity during humanitarian crises. Preserving dignity is essential to maintaining self-esteem and confidence, which is important to cope in stressful and potentially overwhelming humanitarian situations. Supporting women's self-esteem and confidence also assists them in providing care and protection to their children.
For 2020, UNFPA had planned to reach an estimated 48 million women, girls and young people, including 4 million pregnant women, in 57 countries.
*Not real name