The Head of the Catholic Church in Lesotho Archbishop Gerard Tlali Lerotholi and UNFPA, United Nations Population Fund Representative to Lesotho Mrs Therese Zeba Kobeane have emphasized on the need for efforts to reduce maternal deaths especially among young women in Lesotho to be intensified.
During a courtesy call at the Archbishop's offices in Maseru on Tuesday, the UNFPA Representative explained that young women are dying mainly due to post-partum infection and bleeding. She added that another problem is the high incidence of teenage pregnancy.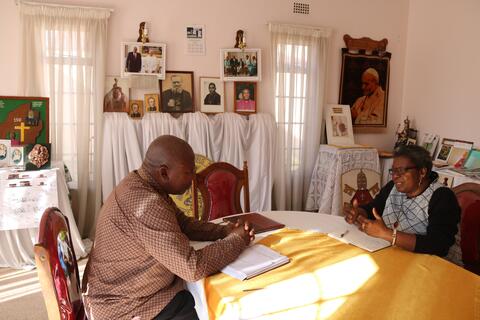 The Representative stated that since a high percentage of people in Lesotho are Christians, the church is better placed to help accelerate and scale up efforts to safe young girls. "We need to have a program to see how we can address issues detrimental to young women and girls. We can start on a small scale but can make a difference," she added.
The Archbishop was grateful for the visit and said he gained and learnt a lot from the briefing, adding, "You are able to reverse the situation when you know what the causes are."
He stated that the church advocates for behavioural change and prevention of early pregnancies and HIV .  He cited peer pressure as one of the aggravating factors and suggested psychosocial support and mentoring as some of the remedial actions that may be appropriate.
Both the Archbishop and the Representative agreed that the situation of young girls and women in the country was pathetic and needed urgent attention.