UNFPA, the United Nations Population Fund Regional Director for the Eastern and Southern Africa, Julitta Onabanjo, has expressed concern on the high rate of maternal deaths in Lesotho. "This is exacerbated by factors such as, young girls falling pregnant too early, their pregnancies are most often not planned. It should therefore be of particular priority to us that they do not die while giving birth," she stated.
Speaking during her official visit to Lesotho on 28-29 August, 2018, the Regional Director said while she witnessed some progress in the dispensation of health services in Lesotho, it was alarming that many women die at child birth.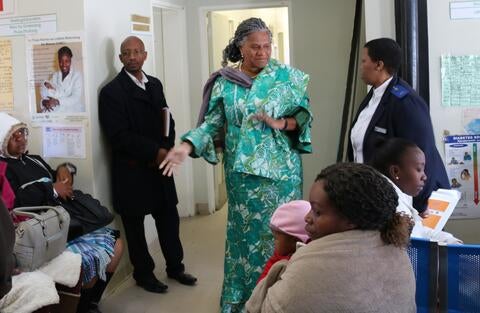 "We need to continue to ensure that no woman dies while giving birth. We must ensure that we reduce and actually end the deaths because many of those maternal deaths are preventable," she emphasized.
"One of the ways to reduce death is to ensure that women can plan their families and that unplanned pregnancies become a thing of the past. A woman must have a choice as to when to have a child and to be able to space those. That's where family planning becomes key and fundamental," she emphasized.
She cited teenage pregnancies as one of the factors contributing to the high maternal mortality. "Our task to ensure that young girls – when they start to be sexually active – understand what it means and the potential risks for HIV, STIs and unplanned teenage pregnancies because they are contributing to maternal deaths," Dr Onabanjo said.
She added that Lesotho still has the second largest prevalence of HIV in the world where at least one out of four people are infected with the virus which makes prevention fundamental.
"All efforts need to be made to ensure that people understand that HIV remains real, that they can get infected if they are not protected and that protection is the only way to go. We should ensure that every pregnancy is planned, every child birth is safe and that every person's potential is fulfilled," the Regional Director added.
"I appreciate the commitment of this government to the health and the wellbeing of its people. But indeed, there are lots of challenges that our populations experience, especially women who have all sorts of inequalities built into the systems that we see in Africa," she continued.
Whilst in Lesotho, the Regional Director visited the Maputsoe SDA Clinic offering Sexual and Reproductive Health and HIV services and Butha-Buthe hospital where she was shown, among others, the Electronic Logistics Management Information System (e-LMIS).