UNFPA, the United Nations Population Fund held a meeting on Friday (21/09/2018) to ensure Lesotho Women Caucus is well prepared for the up-coming women's conference and in the national dialogue for the much anticipated National Reforms for Lesotho.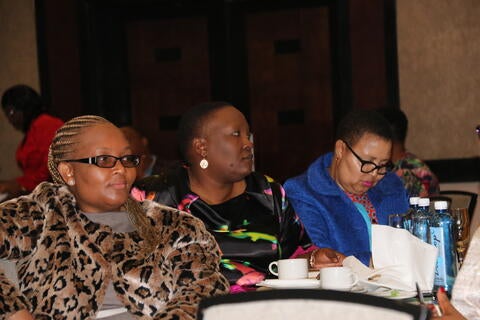 The aim was to discuss jointly some burning issues that are holding women back from participating meaningfully in various sectors including in the political arena. 
  Speaking at the occasion, UNFPA Representative Ms Nuzhat Ehsan implored on the women caucus members to push hard for promulgation of legislation that protect women and girls such as the Domestic Violence Law.  "You are in a position to make change particularly if you speak on one voice," she added.
  On the other hand, the President of the women caucus who is also Chairperson of the Southern African Development Community (SADC) Women's Parliamentary Caucus Mrs 'Matsepo Ramakoae stressed the need for women to be empowered so that they can be able to interrogate laws. She stressed the need for Lesotho to have a gender responsive budget that can address the needs of communities.
 "Thank you UNFPA for ensuring women parliamentarians are well prepared to ensure inclusion of legislation taking care of women and girls in national reforms process," she stated.
  A presentation was made by the National Director of Women in Law in Southern Africa Ms Libakiso Matlho which highlighted discrepancies in the prevailing laws and their shortcomings particularly in relation to protection of women and girls.
 She stated that problems faced by women and girls in Lesotho such as the high rate of maternal deaths (1024/100 000 live births) and HIV (25.6%) are exacerbated by the shortcomings in Lesotho's laws.
"It is upon you as parliamentarians to ensure that there are laws that protect the next generation of women and girls," the National Director emphasized.
Lesotho is embarking in the reform of constitutional, public service, security, judiciary and media reforms following recommendation by SADC.