BEREA – UNFPA, the United Nations Population Fund Representative to Lesotho Mrs Therese Zeba Kobeane has reaffirmed UNFPA's commitment to sustain the partnership with Lesotho Planned Parenthood Association (LPPA) and other partners including civil society to contribute to the realization of the newly approved Sustainable Development Goals.
Delivering a keynote address during the Lesotho Planned Parenthood Association (LPPA) Annual General Meeting held in Teyateyaneng on Saturday (23/04/2016), the Representative congratulated LPPA and its affiliates for their perseverance in making Sexual and reproductive Health and Rights (SRHR) including family planning and HIV prevention services accessible to the population.
She stated that LPPA is an affiliate of the International Planned Parenthood Federation (IPPF) adding that IPPF and UNFPA have a long standing history of cooperation on sexual and reproductive health which started in 1952.
"Our two organizations have worked together over many years, and they both adhere to the principle that there cannot be meaningful development without access of the population to sexual and reproductive health and rights," she added. The UNFPA Representative also highlighted that development in Lesotho is lacking behind because of HIV, Tuberculosis and maternal deaths. For HIV, she noted that it can be expected that it will be controllable following the recent launch of the Test and Treat strategy.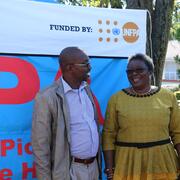 The Representative also emphasized the pertinence for reduction on maternal deaths especially among young people and adolescents whom she said need support to make appropriate choices about their own lives, so that they can become leaders in their communities and the world at large.
In the same vein, the District Administrator for Berea Mr Motsamai Mokoto stated that the country is very much concerned about the high rates of maternal deaths and teenage pregnancy especially among the youth.
He urged LPPA to continue increasing provision of Reproductive Health Services through outreaches so as to contribute to reduction of maternal deaths particularly among the youth who are hardest hit by maternal deaths and HIV. The District Administrator also expressed hope that the AGM would pave a way forward and find ways to mitigate challenges facing the association.
LPPA is one of UNFPA's partners working together in the Sexual and Reproductive Health and Rights and HIV Linkages project for the implementation of the 6th Country Programme 2013-2017.