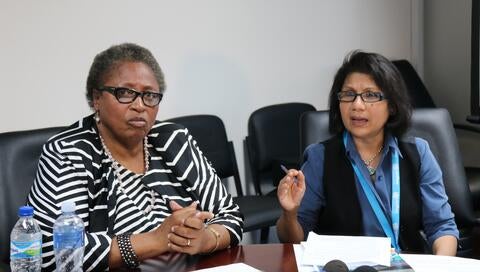 UNFPA, the United Nations Population Fund Representative to Lesotho Ms Nuzhat Ehsan has called upon the media in Lesotho to provide space for maternal health issues in their newspapers and programmes. She said it is through the media that policy makers would get to know about the state of maternal health and the high maternal mortality in the country.
Speaking during a press conference held at the United Nations building in Maseru on Thursday (04th May, 2017), Ms Ehsan stressed the need for reduction of maternal mortality to be in every policy makers' agenda.
The press conference was held ahead of International Day of the Midwife commemorated every year on the 05th May.
The Representative noted that there are efforts undertaken by the Ministry of Health in response to the maternal deaths' situation in Lesotho such as inclusion of competence based midwifery education and development of midwifery framework as a guide. "But there is more that needs to be done so that the maternal mortality rate could be reduced," she added.
Speaking at the occasion, the President of the International Midwives Association of Lesotho Mrs 'Mapitso Matsoha highlighted the causes of the high maternal mortality rate in Lesotho such as inability to attend ante natal clinic sometimes due to staying illegally in South Africa.
This year's theme of the International Day of the Midwife is, "Midwives, Mothers and Families: Partners for Life!" The theme underscores the critical role midwives play. Midwives save lives, support and promote healthy families, and empower women and couples to choose whether, when and how often to have children.
According to the Demographic Health Survey (2014) maternal mortality has worsened, with an increase in deaths from 370 per 100 000 live births in 1990 to 1 024 per 100 000 live births in 2014.
Most of the maternal deaths in Lesotho are said to be as a result of emergencies that require surgical intervention, such as hemorrhage, infection, or obstructed labour.