UNFPA, the United Nations Population Fund in collaboration with Vodacom Lesotho and Lesotho Planned Parenthood Association launched an innovation campaign for Lesotho adolescents and young people under the slogan, "be connected, be tested, be safe at Tebellong, Qacha'sNek on 02 June 2016.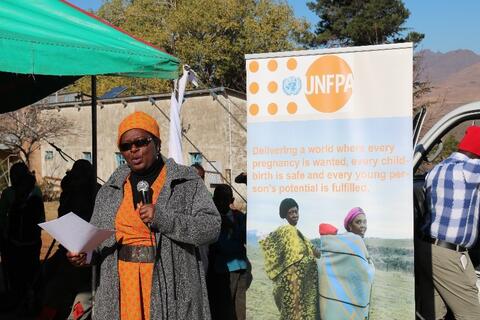 The launch of this campaign kicked off on the grounds of Tebellong Hospital which is situated in Qacha's Nek district housing a population of approximately 69,745. The innovation launch was attended by approximately 253 young people and a total of 400 people including the population around Tebellong Village.
Launching the campaign, UNFPA Representative to Lesotho Mrs Therese Zeba Kobeane indicated that young people should do their best and do more to take it upon themselves to save their lives. She added that UNFPA provides commodities for preventing unwanted pregnancies amongst youth and emphasized to young people that since life does not have a draft, if they make a mistake now, they will not be able to erase it and start a new life.
Speaking at the occasion, Acting Head of Tebellong Hospital Dr Kande thanked UNFPA for bringing more life and light to Tebellong adding that they looked forward for a more long term programmatic intervention.
During this event, about 20 people who attended the occasion received HTC provided by UNFPA Implementing Partner, LPPA. More than 9,000 piece male condoms were distributes, 1480 pieces of female condoms and 100 lubricants were distributed. UNFPA artist, Mr. Mosito Sents'o shook the youth with songs carrying messages of GBV prevention, HIV prevention and respect and integrity of young people.