UNFPA, the United Nations Population Fund and the Disaster Management Authority (DMA) have paved a way forward on collaborating to support vulnerable women and girls who have been affected by the recent floods and COVID19 in Lesotho.
During a meeting between UNFPA Representative to Lesotho Dr Marc Derveeuw and the Chief Executive Officer for DMA Mrs Caroline Mahosi recently, the two organizations agreed to collaborate in distribution of dignity kits which will be accompanied by information on available gender-based violence services, including where and how to access those services. DMA would identify the most vulnerable areas in the country for distribution.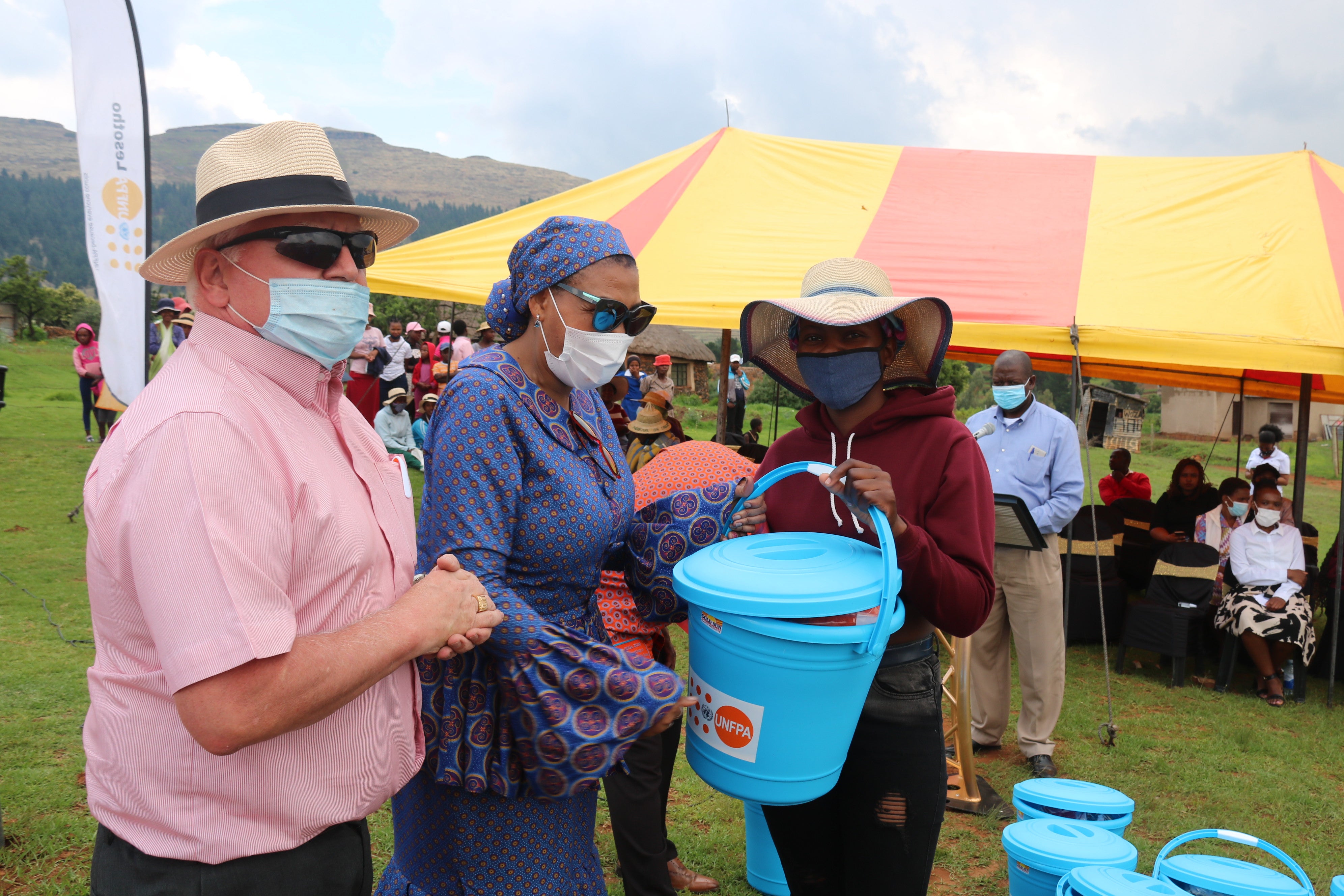 Speaking during the meeting, Dr Marc Derveeuw explained that the dignity kits, which have been procured by UNFPA, contain hygiene products and have been designed specifically to assist women in distress, women that had to leave their households or had to be hosted by other families, so as to reinstall their dignity.
He pointed out that UNFPA had already completed a series of distributions of dignity kits in partnership with the Office of the First Lady and Lesotho Red Cross Society, focusing on women and girls who had been affected by drought.
 "We saw increased cases of violence during the drought and sexual exploitation as well as forced prostitution in certain circumstances and we have seen that women are the biggest victims during these emergencies."
The Representative reaffirmed UNFPA's commitment to supporting DMA, focusing particularly on ensuring continuity of Sexual and Reproductive Health services and also giving attention to Gender Based Violence specifically domestic violence and violence against women.
 "We focus on assisting women victims of drought, women victims of violence because of the drought and women being left alone at their households but our particular attention also goes to continuity of family planning services and continuity of access to maternity for delivery during emergencies," he emphasised.
Dr Derveeuw stated that at regional level, UNFPA is having important discussions on the effects of climate change on the Fund's work and activities, highlighting that the recent floods were confirmation of how vulnerable Lesotho is to the overall climate change.
In the same vein, the DMA Chief Executive Officer concurred that women had mostly been negatively affected by the recent floods, some of them with their houses having been destroyed and their crops washed away, leaving them with nothing to live on.
"COVID 19 has also caused us a lot of stress and has also increased the vulnerability of women and girls. Most of our assessments results show that women and girls are mostly vulnerable especially head of households."
UNFPA and DMA will also work together in undertaking the upcoming Lesotho Vulnerability Assessment.
Reports have shown that at least 54 foot bridges were destroyed by the recent floods, cutting access to, among others, health services for pregnant women and other women seeking family planning services.
For UNFPA, during natural disasters, sexual and reproductive health needs are often overlooked, with staggering consequences. Pregnant women risk life-threatening complications without access to delivery and emergency obstetric care services and women and girls become likely to lose access to family planning services, exposing them to unintended pregnancy in perilous conditions.  In addition, women and girls also become more vulnerable to sexual violence, exploitation and HIV infection.