UNFPA, the United Nations Population Fund in collaboration with the Ministry of Gender and Youth, Sport and Recreation and Vodacom Lesotho launched a mobile platform called "Tune Me," (ls.tuneme.org) at Vodacom Innovation Centre, Maseru Mall on Tuesday (19/09/2017).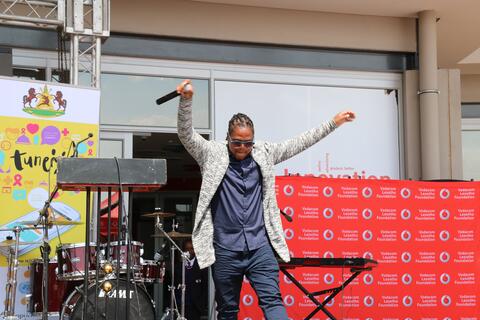 Speaking at the occasion, UNFPA Representative Ms Nuzhat Ehsan, expressed hope that through the mobile site, young people would have access to sexual reproductive health information, saying, "I hope you will become informed Basotho people and achieve the change that you want in your lives."
The Representative was also appreciative of the partnership between UNFPA and Vodacom Lesotho in providing information on Sexual and Reproductive Health and further expressed hope that through the partnership, young people in Lesotho would have easy access to information and thus be empowered.
On behalf of Vodacom Lesotho, the Head of Corporate Affairs Mr T'sepo Ntaopane urged young people to use the "Tune Me" platform and pledged Vodacom's commitment to make it a lot more easier for young people to access information, adding, "there is nothing as bad as not having information."
The launch was led by an official from the Ministry of Gender and Youth, Sport and Recreation Mr Johane Mahao who also emphasized the importance for young people to have easy access to information that would help them make informed choices.  The launch featured dances, drama and music performances by, among others, Stlofa and Juvy.
The site has been developed under UNFPA's flagship youth programme called "Safeguard Young People" (SYP). It covers subjects as diverse as menstruation and gender-based violence.
It is accessed through the internet browser on mobile phones.  Through its social features and content designed to engage users rather than lecture, "Tune Me" aims to equip young people with information and motivation they need to make better choices and empowers them to improve their sexual and reproductive health. Its long-term goal is to empower young people to take ownership of the content, learn to run the platform and use it as an advocacy tool in campaign activities.
Young people make up 23% of Lesotho's population.