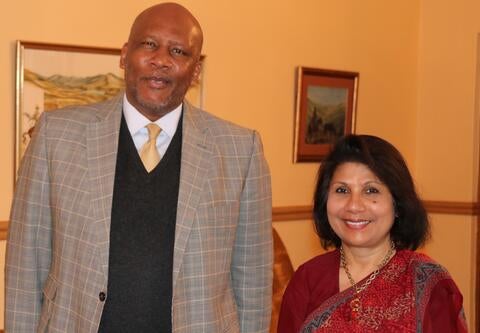 His Majesty King Letsie III has emphasized need for Lesotho to find the source of the high maternal mortality (1024 per 100 000 live births).
Speaking during a courtesy visit by UNFPA, the United Nations Population Fund Representative to Lesotho Ms Nuzhat Ehsan at the Royal Palace in Maseru on Wednesday (03/05/2017), His Majesty stressed, "We need to get to the bottom of this problem which is persisting and then attack, working with all role players including government and United Nations agencies."  
The King also called for a holistic approach to addressing all issues especially maternal deaths adding, "We have to do the best that we can to reduce the number of maternal deaths in Lesotho."
UNFPA Representative highlighted the King on the work of UNFPA in Lesotho, including empowerment of young people especially in prevention of HIV. She also emphasized the importance for availability of data, noting that UNFPA supported the population and housing census in 2016.
Ms Ehsan also expressed UNFPA's concern on the high maternal mortality rate and pledged the Fund's commitment to supporting efforts to ensure that Basotho women get good quality health care.