It was a jubilant occasion when UNFPA, the United Nations Population Fund handed over Dignity Kits to Her Royal Highness Princess Senate Mahato Seeiso at the Royal Palace in Maseru recently.
Princess Senate Seeiso received the dignity kits on behalf of Her Majesty Queen 'Masenate Mohato Seeiso's Hlokomela Banana Initiative. She then handed them over to 20 of the young girls during the handover ceremony. In total UNFPA has offered 400 dignity kits to Her Majesty's Hlokomela Banana Initiative.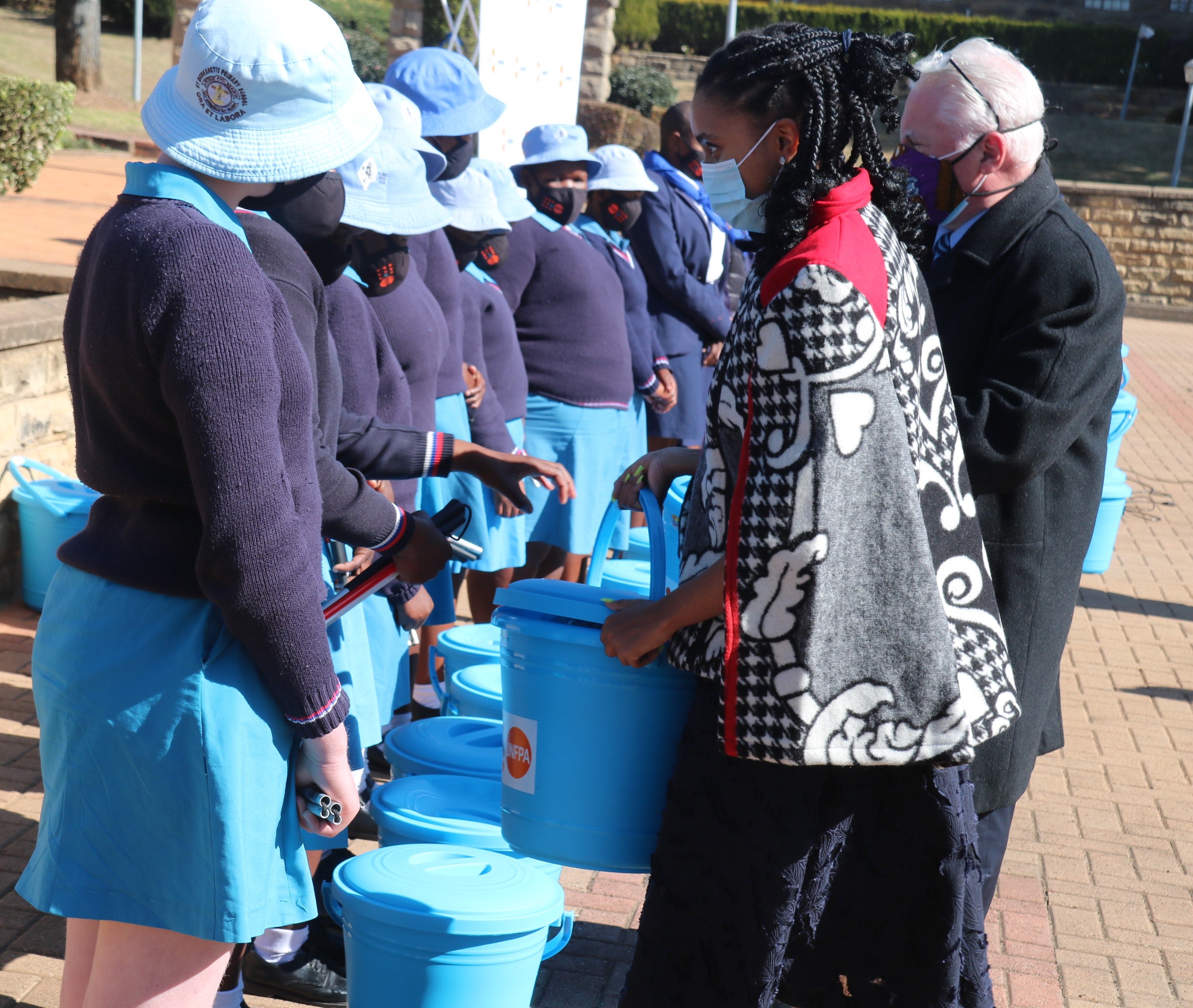 Handing over the dignity Kits, UNFPA Representative to Lesotho Dr Marc Derveeuw noted that the distribution forms part of UNPA's mission to support vulnerable young women and girls in humanitarian situations, which have been caused mainly by the drought in recent years, the floods early this year and the COVID19 pandemic.
"These natural disasters have affected most Basotho in agricultural production and economically, rendering women and girls even more vulnerable and susceptible to negative coping mechanisms such as sex work that could put them as the risk of unwanted pregnancies and infection to diseases," he added.
He pointed out that UNFPA recognizes the multi-layered challenges faced by women and young girls in Lesotho especially during the COVID19 pandemic. "The loss of jobs due to COVID 19 induced restrictions of movement, have been evident in the communities. We saw the rise of gender based violence incidences as women and girls were confined in the same space as their violators during the lockdowns," he stated.
He therefore expressed hope that the 400 dignity kits being offered for young women and girls under Her Majesty's tutelage would come a long way in helping the girls regain their dignity and overcome the challenges that are brought about by nature to women of reproductive age.
He also expressed gratitude to Her Royal Highness Princess Senate and the Office of Her Majesty the Queen for partnering with UNFPA in various areas overtime and in once again agreeing to distribute the dignity kits to vulnerable young girls in Lesotho.
Dr Derveeuw mentioned that coincidentally, the handing over of the dignity kits occurred when the world was marking Menstrual Hygiene Day, under the theme, "Action and Investment in Menstrual Hygiene and Health." The day is observed on 28 May because menstrual cycles average 28 days in length and people menstruate an average of five days each month. (May is the fifth month of the year.)
"For us at UNFPA, to menstruate without being cast out or missing out, without feeling fear or shame and without being treated like less or exposed to more vulnerabilities shouldn't be controversial. Living with dignity is a human right that should be preserved." He stated.
Receiving the dignity kits, Her Royal Highness expressed gratitude to UNFPA saying the gesture was a clear testimony of the fact that UNFPA is indeed a dependable partner of Lesotho in the pursuit of the development agenda.
"UNFPA has always stood with Lesotho in its efforts to support vulnerable members of the society, especially women and girls," she added.
She stated that young women and girls in Lesotho face a number of challenges that they have to deal with every day of their lives, which can be devastating to their young lives if not addressed adequately and early enough and which can result in total destruction of their future.
She cited child marriage, which is estimated at 24% and early and unintended or unplanned pregnancies which sometimes force girls to drop out of school and seek employment, saying these expose young girls to untold vulnerabilities. She added that more often than not, young girls fall victim to these problems as a result of the socio-economic state of the country and the financial status of their families.
So far UNFPA has been working with the Office of the First Lady and the Disaster Management Authority in distribution of dignity kits to vulnerable young women and girls in Lesotho.