It was a day of jubilation when Lesotho commemorated International Day of the Girl Child at Ha Nkuebe, Sebapala in the Quthing district on 11th October, 2016.
The highlight of the commemoration, under the theme "Girls' Progress = Goals' Progress: A Global Data Movement" was glamorized with presentation of shoes and dignity kits to adolescent girls around the area by Assistant Minister of Gender and Youth, Sport and Recreation Mrs 'Marefuoe 'Muso who was the guest of honour, UNFPA, the United Nations Population Fund Representative to Lesotho Mrs Therese Zeba Kobeane and Mrs 'Maseeiso Nkuebe who was acting on behalf of the Principal Chief of Sebapala Chief Hlabathe Nkuebe.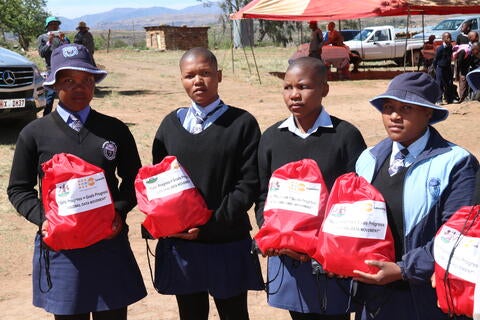 Speaking at the occasion, the Assistant Minister reiterated the importance of girls to society, indicating that there are legal frameworks which provides for females to be entitled to inheritance. She therefore called for utilization of these laws.
On behalf of the Principal Chief, Mrs 'Maseeiso Nkuebe emphasized the need for girls to have an education and not to have children at an early age as when girls are educated the nation would also in turn be educated. "You are valuable and you are our gold as the Basotho nation," she said to girls.
Representing girls in the area Karabo Ntjana lamented that they had to travel long distances to schools. "Schools should be brought closer to us and we should be equipped with skills to avoid unwanted pregnancies," she added.
On behalf of UNFPA Representative to Lesotho Mrs Therese Zeba Kobeane, the Assistant Representative Mr Ret'selisitsoe Nko read the statement by UNFPA Executive Director Dr Babatunde Osotimehin reaffirming UNFPA's commitment to supporting adolescent girls to reach their full potential and determine their own destinies.
Emphasizing the importance of data as outlined by the theme, he said fewer than 50 countries can provide data that are disaggregated by sex and age, adding that vast gaps in data exist in many areas, including poverty, intimate-partner violence, and adolescent deaths from pregnancy and childbirth complications, especially in the 10- to 14-year-old age range. "As a result, the challenges many girls face remain unaddressed, and this valuable segment of society is repeatedly unable to realize its full potential," he added.
This was the fourth commemoration of International Day of the Girl Child since it was declared by the United Nationals General Assembly. UNFPA together with its Implementing partners including LPPA also provided HTC and FP services during the time in a bit to have more data for programming.