When Leutsoa Khobotlo cleared garbage at his landlord's yard to start a small vegetable garden two years ago, little did he know that he would end up running a green house, producing enough vegetables to supply schools and supermarkets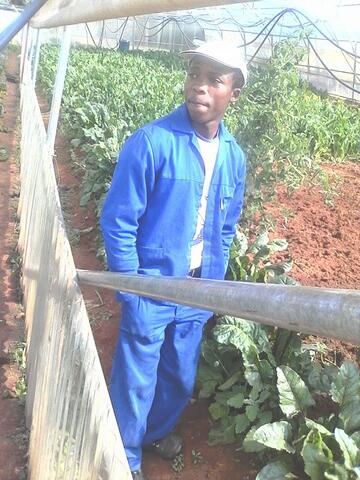 Leutsoa runs a Green House at Leribe Youth Resource Centre, an establishment by the Ministry of Gender, Youth and Sports which is supported by UNFPA, the United Nations Population Fund.
He says he remembered how his widowed mother used to grow crops to help feed her three children and was motivated. "That is when I started growing vegetables. Little did I know that two years down the line, I would be running the Green House which the Ministry of Gender, Youth and Sports has leased to me for two years."
The recent El nino induced drought that hit Lesotho and other Southern African countries has been one of the major challenges he has had to face. But he encourages others to persevere, "I must say, it has been a challenging journey, particularly during the drought …I could almost quit, but I decided to soldier on."
Leutsoa motivates other young people to do something and not wait to be employed. "With the high unemployment rate facing our country, I urge all young people to get their hands on something. It may not be agriculture but do something," he states.
The Youth Resource Centres in various districts in Lesotho have similar Green Houses which are run by Young people. Through the support of UNFPA Youth Skills Development Officers, the centres also offer Comprehensive Sexuality Education, outreach services for young people and computer skills.