Enumeration at cattle posts in the Thaba-Tseka district, one of Lesotho's highland districts, has had to be extended up to the 13th May, 2016 due to more cattle posts being discovered in the district.  Enumeration in Lesotho's paperless 2016 Population and Housing Census started on 10th April 2016 and officially ended on 24th April 2016 while call backs were set for 25th to 30th April, 2016. However, according to the Director of the Bureau of Statistics Mrs. Liengoane Lefosa, more cattle posts were discovered during the process in the Thaba-Tseka district hence the extension.  In total, 3500 cattle posts will now be covered.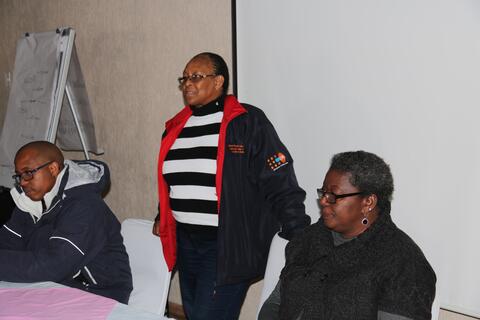 She stated that enumerators also had to be increased to cover the cattle posts, adding that enumerating cattle posts has proved to be a bit challenging. "For the Enumerators to get into a particular ward, inhabitants of the cattle posts in that ward have to be informed by the Chief first to avoid enumerators being mistaken for livestock raiders. Again, travelling from one cattle post to another may take a day as the posts are sparsely populated. Furthermore, another setback has been the recent rains and as winter is setting in, it gets dark quickly these days, so the process has not gone as fast as it had been anticipated, "she pointed out.
Meanwhile, addressing enumerators during training which was held in Thaba-Tseka on Tuesday (10/05/2016), in preparation for the Post Enumeration Survey which starts on 15th May, 2016, Mrs Lefosa congratulated the enumerators for the commitment and dedication they have demonstrated while undertaking the task so far and appealed for more devotion from them so that Lesotho can have a flawless and credible census.
She also expressed gratitude to UNFPA, the United Nations Population Fund through its Representative in Lesotho Mrs Therese Zeba Kobeane for the invaluable support. "UNFPA has always been our partner, financially, technically and even morally. We have never had such a trustworthy and reliable partner," she added.
Speaking at the occasion, UNFPA Representative Mrs Therese Zeba Kobeane also congratulated the enumerators for being part of the making of history as the ongoing census is the first in the United Nations 2020 round of censuses to use mobile devices (android tablets) for full implementation of the census. "Your results will be used in the next 10 years. Again the census report that will come out of this exercise will be used by a lot of people. As it is, many countries will be looking up to Lesotho when conducting censuses," she further pointed out.
The Post Enumeration Survey is expected to be undertaken until the 31st May, 2016.