---
Unplanned pregnancies, cross generational relationships, early marriage and peer pressure are some of the issues that constantly emerge from young people as concerns and issues to avoid during Innovation days being held by UNFPA, the United Nations Population Fund through District Youth Resource Centres around Lesotho. The Innovation days are held under the "Be Connected, Be Tested, Be Safe" Campaign, which strives to encourage young people to connect and discuss innovative solutions among themselves to address this ailments and be capacitated. In these campaigns, young people are mobilized through media resources and social networks and receive such services as HIV testing and Comprehensive Sexuality Education (CSE).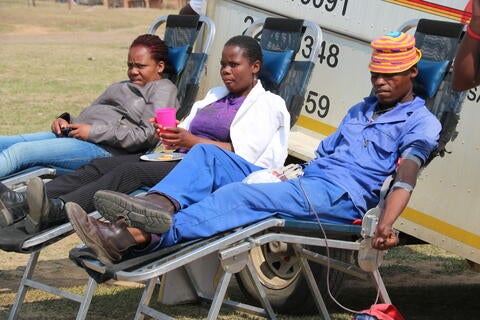 UNFPA in partnership with the Ministry of Gender, Youth and Sports, Ministry of Health, Lesotho Planned Parenthood Association, Child and Gender Protection Unit and PSI are currently holding the innovation days around the country, to also encourage a culture of communicating sensitive issues among young people, parents and Sexual and Reproductive Health and Rights (SRHR) service providers.
The innovation campaign was launched in Qacha'sNek in June, 2016 and so far innovation days have been held in Berea, Butha-Buthe and Mohale'sHoek, notwithstanding the innovative commemoration of International Youth Day in Leribe and that held in Thaba Tseka for World Population Day similarly adopting the same approach.  During these events, a dialogue is held to provide a platform for partners, parents and young people to discuss issues of concern to young people, reflecting on what could have gone wrong and paving the way forward in a bid to improve on the lives of young people. During these events, young people are also able to express themselves on what kind of services they want to get and where there are gaps.
Speaking during the innovation day in Butha-Buthe on behalf of the UNFPA Representative, Mrs Therese Zeba Kobeane, UNFPA Assistant Representative Mr Ret'selisitsoe Nko explained that the purpose of the campaign and innovation days was to create a platform and bring together young people, parents and partners to come together and discuss issues of common good to young people particularly in sexual and reproductive health and rights.
"As we focus into the 2030, we have to give special focus to young people especially girls because we have to start today to ensure that they have a better and brighter future," he stated.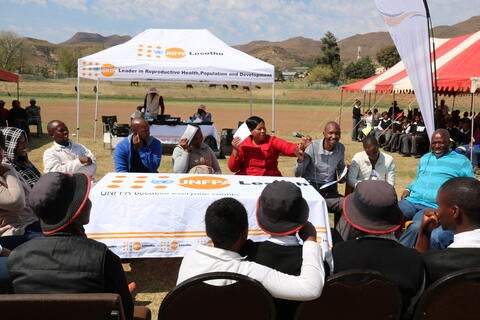 He encouraged young people to make use of the Youth Resource Centre and other service providers such as PSI, Blue Cross and Lesotho Planned Parenthood Association (LPPA).
The District Administrator for Butha-Buthe Mr Matlotlo Ramaboli called for joint efforts to ensure a better future for young people. He also called for peace as Lesotho commemorate 50 years of independence. "Let us live in peace as development only thrives when there is peace."
The highlight of the events is a dialogue for exchange of views between young people, parents and partners as well as encouraging young people to be innovative. HIV counselling and testing, blood donations and condom distribution also feature highly during the events. Entertainment including drama, poetry, songs and dances are also among the activities done by young people during the campaign.