UNFPA, the United Nations Population Fund Representative to Lesotho Dr Marc Derveeuw has handed over dignity kits to the Minister in the Prime Minister's Office Honourable Kemiso Mosenene. The dignity kits are to be distributed by the Disaster Management Authority (DMA) to vulnerable young women and girls affected by climate change and COVID19.
Speaking at the occasion, the UNFPA Representative said the 900 dignity kits have been designed locally to help and restore the dignity of women and girls particularly in emergency situations.  He explained that they contain items like sanitary napkins, brushes and soap to assist women and girls who are victims of disasters. "We have been handing them out to victims of the climate change such as drought and floods, and COVID19 has also put an additional burden on the young girls in Lesotho," he added.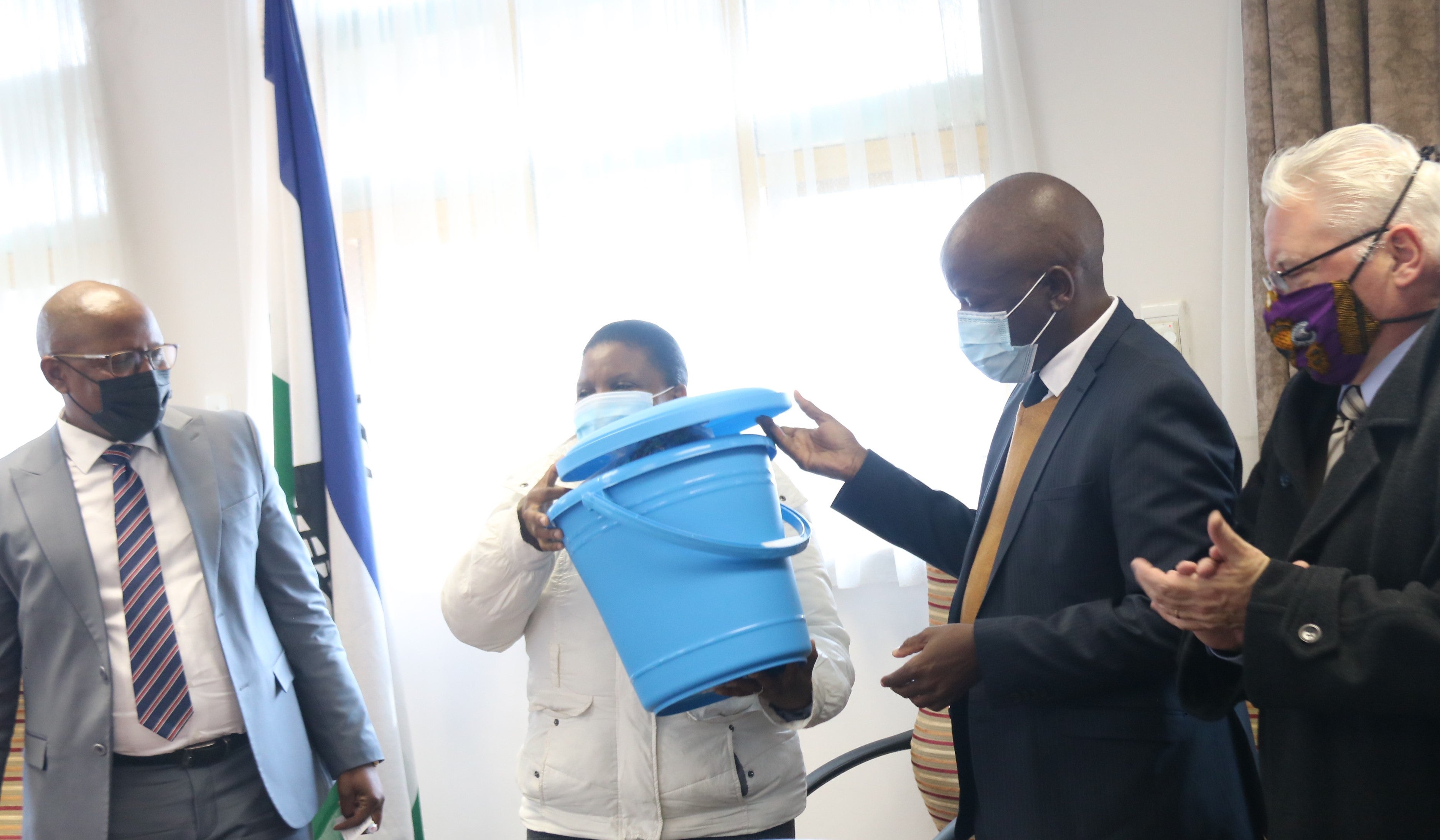 Dr Derveeuw also stated that the situation of women and young girls is of particular concern to UNFPA. He said It is important to maintain the dignity of women and girls in order to ensure their decision making at community and family level also highlighting that one of the repercussions of climate change is an increase in migration.
"We have been working together with DMA for some time and our main focus has been the situation of women and young girls through, among others the vulnerability assessment which highlight and show the situation of women and their particular humanitarian needs," he added.
He further stated that during the past two years UNFPA in Lesotho has given out over 3000 dignity kits through different channels such as the Office of the First Lady for redistribution and that another consignment would be handed over to the Office of Her Majesty the Queen for further redistribution.
The Representative also noted that Lesotho has a couple of priorities in the political agenda to the important situation of women and young girls citing the roll out of the domestic violence law and the protection of women victims of rape.
The Honourable Minister said what UNFPA did was a noble gesture done to ensure that the dignity of young girls is restored.
He said his office would ensure that the dignity kits are passed on to the most vulnerable women and girls. He said dignity kits help women and girls maintain their dignity during the humanitarian crises adding that preserving dignity is essential to maintain self-esteem and confidence which is of utmost importance to cope during stressful and potentially overwhelming humanitarian situations.
"Supporting women and boosting their self-esteem and confidence also assist them in providing care and protection to their children," he added.
The dignity kits will be distributed in various districts around the country identified by DMA.