The people of Matsoku area, in the rural highlands of the Leribe district came in droves when UNFPA, the United Nations Population Fund Country Office in Lesotho in partnership with the Office of Her Majesty Queen 'Masenate Mohato Seeiso held a cross generational dialogue and initiative to support the elderly at Ha Makopela, Matsoku recently.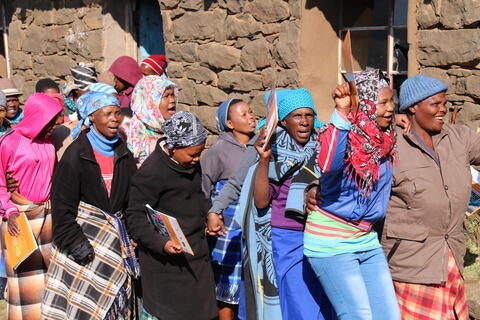 The highlight of the events was the presentation of blankets and maize meal to the elderly by Her Majesty the Queen and UNFPA Representative Mrs Therese Zeba Kobeane. Other activities included a community dialogue to bridge the gap between the elderly and youth in the area focusing on prevention of teenage pregnancy, HIV and maternal deaths.
Speaking at the occasion, Her Majesty Queen 'Masenate Mohato Seeiso explained that the initiative and partnership started last year in Mokhotlong. She stated that this year the country has been hit by the elnino induced drought resulting in poor harvest hence the support to the elderly with maize meal.
The Queen reiterated the importance of the elderly to society as they are care givers and transferors of cultural knowledge.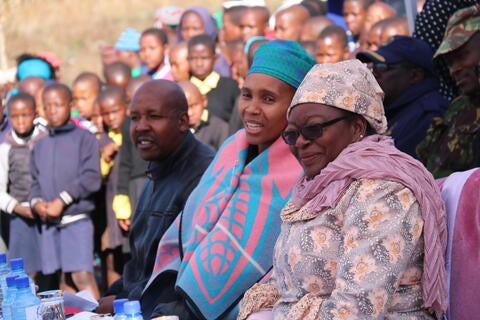 She expressed appreciation to the partnership with UNFPA through its Representative Mrs Therese Zeba Kobeane saying, "We are truly grateful for your kind assistance and we hope that our partnership in similar initiatives will prosper. Let us continue to take care of the elderly, love them and respect them."
The UNFPA Representative stated that HIV and maternal deaths are preventable but unfortunately young girls continue to be infected by HIV and young women continue dying when giving birth.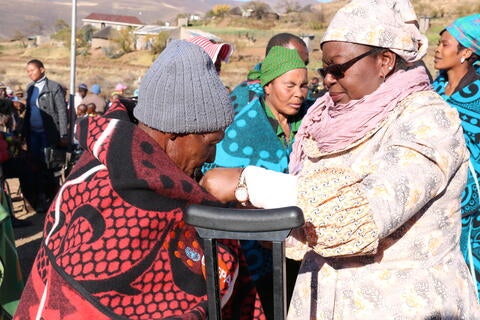 "As UNFPA, we advocate that the gap between elders and young people be closed. As the elders, youth are also facing life threatening challenges. At each community level a constructive dialogue should then be established between the elders and youth. Your advice, coaching, and guidance are highly expected and will help the young people to build a better life for themselves and a better future for their community," she stated.
She also reiterated the importance of the elderly adding that UNFPA takes the elderly in very high regard and consider aging as a triumph of development. Speakers that included chiefs all thanked Her Majesty the Queen and UNFPA for the support. The day was grazed with traditional songs and dances.