Women factory workers gathered in droves to receive Sexual and Reproductive Health services and HIV testing as part of commemoration of International Women's Day on Wednesday (08/03/2017.)  UNFPA, the United Nations Population Fund partnered with Lesotho Planned Parenthood Association (LPPA) to offer the services.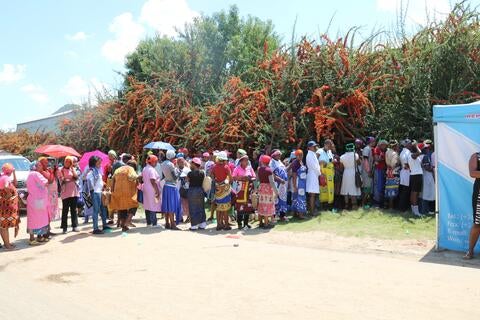 Speaking to the women who accessed the services during their lunch break, UNFPA Representative to Lesotho Ms Nuzhat Ehsan emphasized the need for women to be able to access sexual and reproductive health services so that they could plan their families in a way they desire. "As women, it is your right to plan your families the way you want," she added.
The Representative outlined the main message for the day, that women access sexual and reproductive health services that would enable them make choices and control their reproductive lives. She also expressed gratitude to LPPA for partnering with UNFPA to offer the services.
The women were gratified to get mostly family planning services saying they usually have to miss work to access them and thus risk salary cuts. "It would be very helpful if these services could be brought here at least once a month," said one of them Lieketseng Moorosi (34).
International women's day was this year commemorated under the theme, #Be Bold for Change.