UNFPA, the United Nations Population Fund Regional Director for East and Southern Africa Region who is also the Regional Directors' Country Focal Point for Lesotho Dr Jullita Onabanjo has congratulated Lesotho for being the first African country to launch the "Test and Treat" strategy aimed at ensuring that every person who tests positive for HIV is given immediate treatment.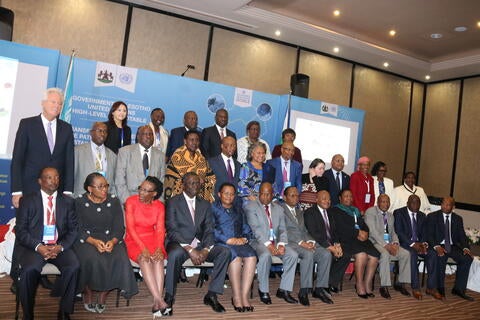 Addressing the Government of Lesotho and United Nations High Level Roundtable in Maseru, Lesotho on Thursday (14/07/2016) the Regional Director reiterated the importance for health to always come first, saying, "the prosperity of our people, the ability for them to realize their rights and protect their countries and planet lies on their health."
Dr Onabanjo who was co-chairing the high level round table session on Strengthening Health Systems to deliver on the Sustainable Development Goals (SDGs) emphasized the importance of working together as government and the United Nations, and reaffirmed the United Nations' commitment to jointly seeking solutions that could lead to achievement of results and prosperity for the people.
In the same vein, Lesotho's Minister of Health Dr 'Molotsi Monyamane pledged Lesotho's commitment to investing on the girl child and protecting them from deterrents such as early marriages and gender based violence. "Our transition to a high income country in the next coming years lies on how well we invest in our girls," he added.
The high level roundtable, which ends on Friday (15/07/2016) will also discuss issues such as environment and climate change and governance reforms. Among speakers are Lesotho's cabinet ministers, academia and representatives from civil society organizations. Whilst in Lesotho, the Regional Directors also met Lesotho's Prime Minister Dr Pakalitha Mosisili.