The Officer in Charge for UNFPA, the United Nations Population Fund Lesotho Country Office, Dr Reginald Chima has reaffirmed UNFPA's commitment to supporting Lesotho and in particular, the Ministry of Health.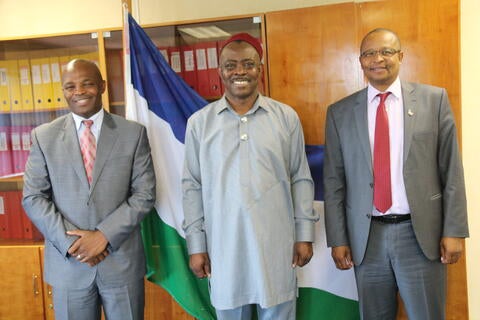 Speaking during a courtesy call to the Minister of Health Dr 'Molotsi Monyamane at the ministry's headquarters in Maseru on Monday (07/11/2016), Dr Chima, who is also Regional Advisor –Monitoring and Evaluation based at the UNFPA East and Southern Africa Region Office in South Africa, also assured the Minister, who was accompanied by the Principal Secretary for the  Ministry of Health Mr Tsietsi Lebakae that UNFPA would always endeavor to comply to bilateral agreements with its partners, adding, "As UNFPA, we respect national governments, cultural institutions and we also respect young people, women and girls."
The Minister's view was that Dr Chima had come to Lesotho at the right time when priority is to eliminate HIV, tuberculosis and maternal mortality. "We have to be aggressive and we need to have operational strategies to combat these problems. Nobody should be left behind," he stated.
Dr Monyamane was also concerned about Lesotho's performance in Family Planning and expressed gratitude to UNFPA for support in this area through the use of Information and Communication Technology to manage family planning commodities.